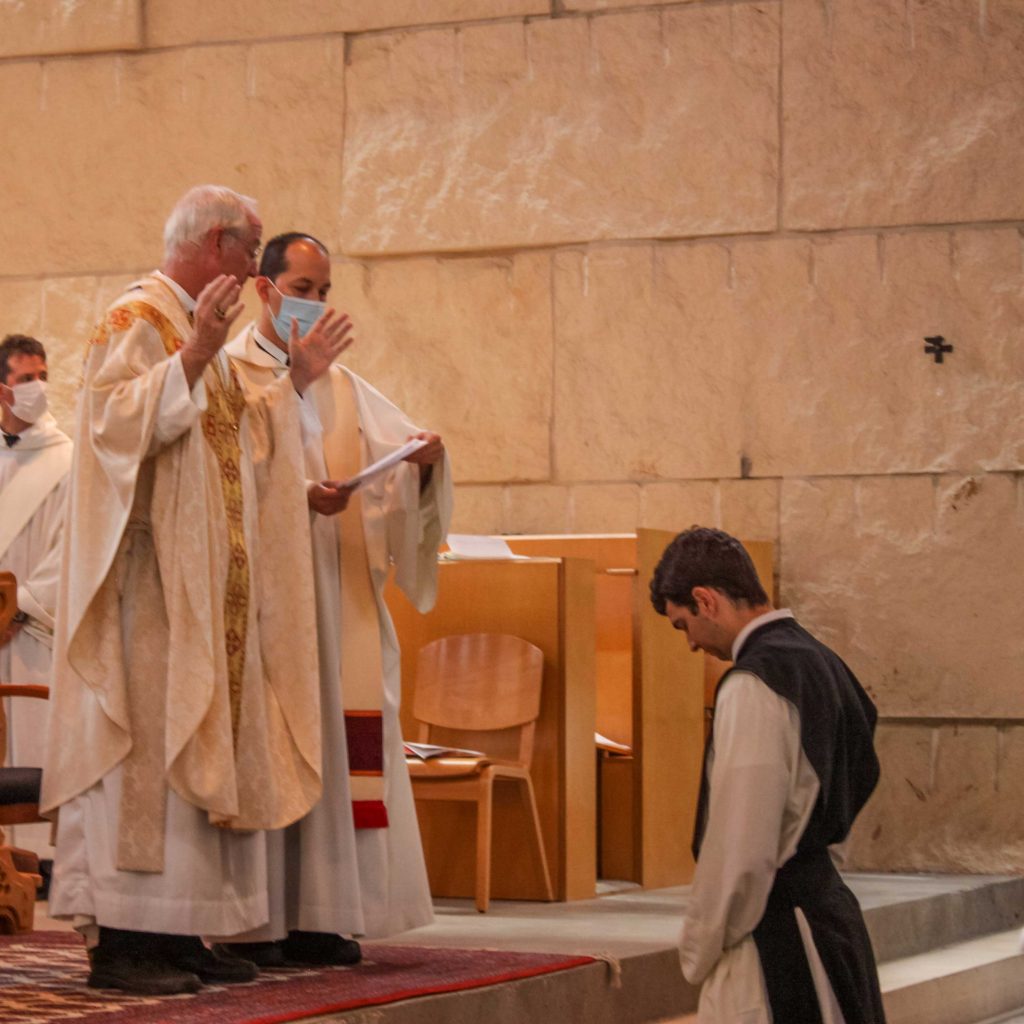 On August 14, 2021, Br. Matthew was ordained a deacon and Br. Francis – now Fr. Francis – was ordained a priest. The following day, on the Solemnity of the Assumption, both monks served for the first time in their new roles within the Church, as Fr. Francis celebrated his first mass at Holy Trinity in Dallas, his home parish.
Bishop Burns presided over the ordination mass in the abbey church, which was attended by many friends and family of the Cistercian community. There are many powerful moments in the ordination rite. Fr. Francis says he was struck especially by the laying on of hands: "I think the most meaningful part of the ceremony for me was the laying on of hands that came not only from the bishop but from all the concelebrating priests present, some of whom were not even Cistercian nor men I knew very well. Yet it is precisely this universal aspect of the presbyterate, all of us being in it together, and not just me alone, that made me feel most concretely part of something much larger than myself."
A vocation to the ministerial priesthood is a very special gift that comes with a proportionate level of responsibility. When asked about how his prayer life has changed after his ordination, Fr. Francis noted how strongly the words of consecration – "…this is my body, given up for you" – stand out to him as a claim upon his own life: "I feel more of a sense of involvement and responsibility during the words of consecration: a sober realization that I have to give myself up completely too." Speaking the words of the sacraments in persona Christi, and especially the words of consecration, easily changes one's spiritual life and experience of the liturgy.
Just before Fr. Francis was ordained a priest, Br. Matthew was ordained a deacon. He had professed his solemn vows the previous day. This year, he will continue his studies in theology at University of Dallas, but now as a full member of the Cistercian community. In the spring semester, he hopes to travel to Rome to continue his studies. While still in Dallas, he will continue to serve as guest master in the monastery, and at the prep school he will serve as a deacon and preacher for the class masses of Form VII. In addition, he will serve as an assistant to Fr. Lawrence, who is the form master for Form I.
The profession of solemn vows binds a man to the monastery for the rest of his life, in a way that is similar to marriage vows. When asked about spiritual discernment, or how someone could arrive to such a definitive commitment, Br. Matthew indicated the importance of silence and counsel: "In general, when discerning, one must be open to God's will, which involves finding time for quiet prayer and reflection. It's only in those times that one can possibly hear God speaking and trying to guide one's discernment. For someone specifically discerning the priesthood and monastic life, I advise finding a sound spiritual director, preferably a priest or monk himself, to help you in the discernment process. It helps to have another voice other than one's own in the conversation!"
On the same day that Br. Matthew made his solemn vows, one of his classmates from his time as an undergraduate at University of Dallas, Br. Christopher Kalan, renewed his temporary profession to the monastic life at Our Lady of Dallas. Having renewed his vows, Br. Christopher will continue his studies in preparation for diaconal and priestly ordination. When asked about spiritual discernment, Br. Christopher noted the sense of "adventure" our lives have when they are lived with God: "For someone newly entering the discernment process or thinking about religious life I would tell them that the process is always full of adventure. God never ceases to surprise. […] God is always working in new and surprising ways, opening doors that you never even imagined for yourself. You just have to allow yourself to be open to go along with His adventure." Let us give thanks to God for our new priest, Fr. Francis, for our new solemnly professed member, Br. Matthew, and for the continued presence of Br. Christopher in our monastery. As Bishop Burns pointed out at the ordination mass, this moment is a true "regeneration" of the monastery through an increase in vocations. Praise God. Let us pray that Br. Christopher, Br. Matthew and Fr. Francis, along with all the monks, always search for God and serve His people well.